Returning from ETHBerlinZwei
§ An impostor trolling at a "Web 3.0" hackaton
ETHBerlinZwei was a hackaton where different teams (from many countries) had 48h to implement something on the topic blockchain (which has the unquestionable benefit of attracting a good deal of investiments sometimes without a solid business model).
Well, I know nothing about blockchains and I'm behind schedule on a project, so I decided to apply to the hackaton and do some serious coding on my stuff. Two days with unlimited food, drinks, sleeping area and music. Where do I have to sign? :-) As a further bonus it's always nice to be among hackers, there's always fun stuff to learn (plus I had some friends there).
To my great surprise, my application was accepted (lol).
So the first night, while I getting "in the zone", I received this message: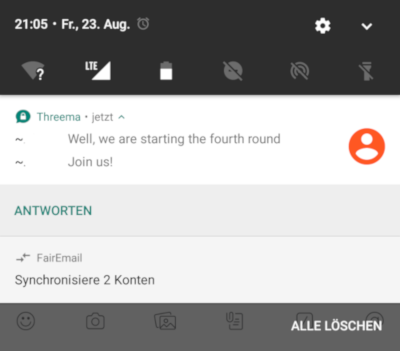 Ok, the hackaton can wait. I closed the laptop and spent the evening with my friends :-)
The following morning I was invited to a brunch. There I've met some people that were anxious to explain their ideas and products revolving around the blockchain tooling. I've asked a lot of questions and learned the basics. Products mentioned were a card to convert bitcoins to and from real currency; a permissionless / decentralied network to grant access to encrypted files; an advanced terminal for financial institutions to manage any kind of transactions.
I asked about business models, the problems that the blockchain "stack" would like to solve. I've been given examples such as online gambling, real-estate market (transactions), video games micro-transactions, banking / financial use-cases. In one word: transactions. Things moving fast from A to B and being distributed to multiple nodes.
That week I had attended also some meetups and talked with people developing the backbone of these transactions systems. Very interesting indeed, although sometimes I was under the impression of being in front of a solution looking for a problem to solve.
So far: not one line of code was written :-)
Around lunch I went back to the hackaton to finally get some shit done. I kept on hitting the keyboard furiously until the following morning, occasionally eating a bite and happily overdosing on caffeine. I took a quick nap before the award ceremony.
Which I didn't attend because I was tired, so I went home to have a shower. I've heard that the submissions were generally not impressive, mostly because the teams had not enough time to work on their projects.
I am happy because I've accomplished a good deal of code for my project. I've also learned some stuff about Hyper (an async client/server library in Rust) which I'll probably detail at a later stage.
The organization was simply amazing. During the night, volunteers filled the fridges with beverages and on the tables there were always something to eat. During the day meals were good. Having done some work in conferences I incredibly appreciate the invisible work that these people do.
At your next conference, don't forget to stop and thank a random person that is working there. You'll make that person happy.
I only have a small complaint: the policy about photos was not respected by many attendees. At any given time there were people taking pictures and filming without asking permission. Whatever.
Now my head hurts and I have to recover from the withdrawal of caffeine, so I'll stop it here.